Heckelphone
[Instrument]
[List]
[Music]
[Players]
[Other]
[Blog]
[About]
---
Heckelphone #3917
According to Edith Reiter's 2014 book, this instrument was completed on 30 May 1925 and shipped to a buyer in the USA; it is a model 36b ("German system").
As of April 2020, heckelphone #3917 is owned and played by Margaret Friederich (Germany), a founding member of the Pifferari di Santo Spirito, who is specialised in rare woodwind instruments. She had a locking mechanism added to secure the connection between the top and middle joint. Friederich plays the instrument with a modern bocal. It lives in its original case with a modern Altieri thermo-cover. The original bocal and sail cloth cover still exist.
Friederich purchased heckelphone #3917 on 7 July 1996 from Viennese bassoonist, composer, scholar and author, Werner Schulze. She immediately started playing it and used it for a performance of "The Planets" by Gustav Holst with the "Philharmonisches Orchester der Stadt Heidelberg" under Thomas Kalb in December 1996 (a live recording of this concert is available here, and the heckelphone is heard prominently in Track 7, "Saturn"). Since then, Margaret Friederich has used heckelphone #3917 regularly for performances.
While in the possession of Werner Schulze, the instrument has been used frequently, in Austria and internationally, by Schulze as well as by noted Viennese oboist, Alfred Hertel. In particular, it was used in numerous performances (and in recordings) of three compositions by Schulze: Snúningur (1980), Heckelphonia (1982) and Metamorphosen (1982).
Werner Schulze acquired heckelphone #3917 on 4 October 1980 from well-known German oboist, collector and cabinet maker, Gunther Joppig, who had acquired it in the USA.
This instrument is in regular use and in excellent condition. It can be heard, played by Margaret Friederich, on the album "Mit einem Augenzwinkern" (track 16, Maurice Ravel's Bolero, arranged by Matthias Friederich for the Pifferari di Santo Spirito), and also here.
Some pictures (from 2020):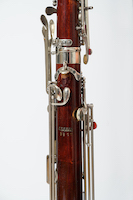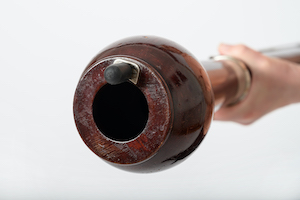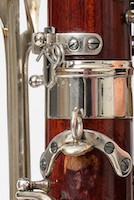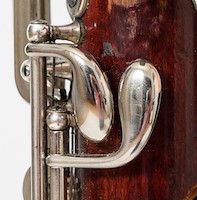 These images were taken by Gülay Keskin from Heidelberg (Germany). Any use for commercial purposes is prohibited.
Heckelphone #3917 in action (1983):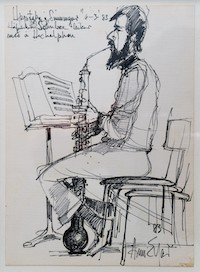 Prof. Werner Schulze plays heckelphone #3917 during a recording session of his piece "snúningur" on 6 March 1983 at Háskólabíó (University Cinema) in Reykjavík, Iceland. Drawing by Árni Elfar (1928-2009). Any use for commercial purposes is prohibited.
---
Many thanks to Margaret Friederich, Heidelberg (Germany), who kindly providing much of the information and the pictures shown on this page, as well as the recording of heckelphone #3917, and to Werner Schulze, Vienna (Austria), who generously supplied valuable additional information as well as the drawing by Árni Elfar.